Probut X-Factor jeans are unbeatable all season travel equipment for riders who want maximum of functionality, protection, and comfort. With these jeans weather really doesn't matter. When it is cold and rainy the removable inner pants made of Waterproof membrane and thermo insulating layer will do their job.
When it is hot outside, Cordura® denim with Coolmax® fiber system will take the body moisture to the upper layer giving these riding jeans perfect cooling and drying performance.
The jeans have air ventilation pockets on thighs. Nylon boot cuffs prevent water from getting in from bottom during the rain. Reflective stripes in calf zones maximize the visibility on road.
Jeans are made from 12.5 oz Cordura® denim with Coolmax® which is abrasion resistant material Cordura denim is 4 times stronger than standard denim of the same weight. Impact zones in knees and seat are lined with large aramid fibre panels made with original Kevlar® by DuPont™. All together it means double abrasion resistance. Impact safety is managed by Trilobite® Premium protection CE level 1 in knees and hips while knee pad pockets can be installed through exterior zipper openings. Triple outseam underlines safety performance of Probut X-Factor jeans.
Due to ergonomically shaped stretch panels in knees, back of the waist, and crotch riders will always move free and travel comfortably on long trips. The X-shaped crotch panel gives wide possibilities for any extension movements on bike.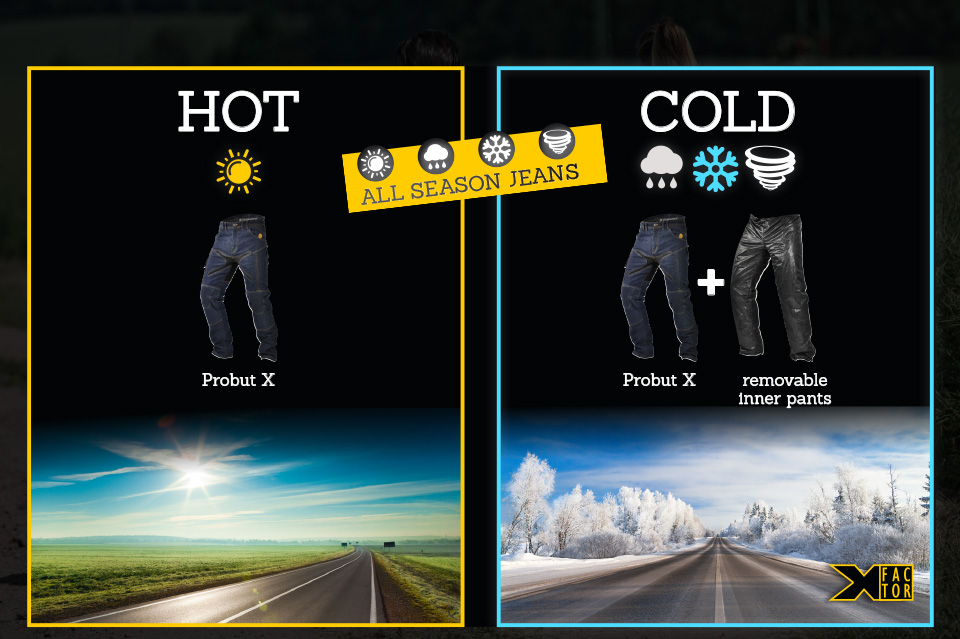 Outer material:
12.5 oz Cordura® denim with Coolmax® fibres

Outer shell lining:
Aramid fibres lining in knees and seat made with Kevlar® by progressive DuPont™ technology

Protection:
Trilobite® Premium Protection CE Level 1 protectors on hips and knees
Triple outseam

Ergonomic features:
5 pockets + 1 secret pocket
Stretch panels in knees, back waist, and crotch
Adjustable height of knee protectors
Double belt loops in front
Raised waist beltat the back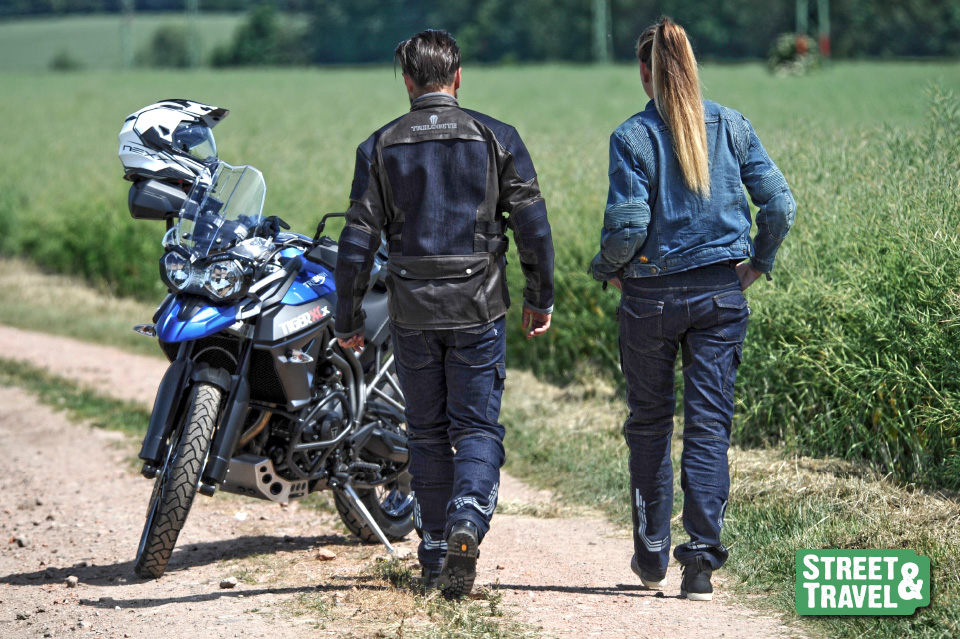 Ventilation:
Thighs air vent pockets
Breathable crotch panel
Coolmax® moisture wicking system
Water resistance:
Membrane 10 000 mm water column / 10 000 g breathability
Fit:
Travel off road and on road style men (30 - 44) and ladies (26 - 36) EU sizes in regular and long versions. Perfectly matches with Trilobite® Rally, Parado and Agnox jackets.
Packaging:
Supplied with inner pants in a separate transport bag not installed to jeans
Kevlar® and DuPont™ are trademarks or registered trademarks of E.I. du Pont de Nemours and Company.