Trilobite® target is to change the conventional way of motorcycle apparel production. While in the sports apparel industry it is nowadays quite common to use recycled materials for garment production, especially in ski & snowboard technical apparel, in the motorcycle apparel industry it is a unique approach. Trilobite® is probably one of the first motorcycle apparel brands which uses recycled materials for garment production.

Although Trilobite® is a motorcycle technical apparel maker, we still keep in mind the importance of a clean environment. We know it is not necessary to use natural resources in a careless way. Using waste as a raw material allows minimizing the consumption of natural resources. Trilobite® commits to help save the planet. Trilobite® Premium Aramid Fashion future goal is to produce motorcycle apparel from 100% recycled materials.
In 2019 collection, Trilobite is coming to the market with products, which contain either recycled polyester or recycled cotton.Using recycled cotton helps to reduce the use of virgin Cotton, and thus the significant water, CO2 and other impacts from cotton farming. The pre-consumer Cotton from industry and post-consumer Cotton from discarded clothes goes to grinding process and then raw material is made again. After that, the raw material is processed into yarn and the yarn is turned into recycled Cotton.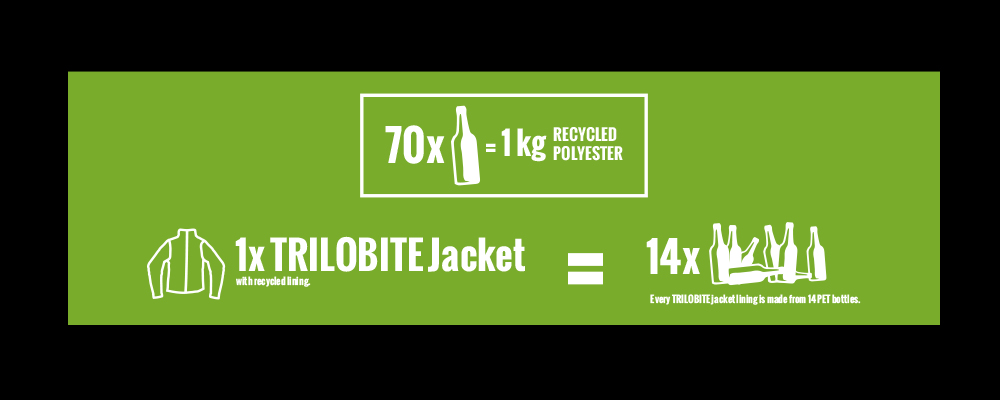 Besides recycled Cotton, Trilobite® also uses recycled Polyester. By integrading 100% recycled polyester fabrics in garments Trilobite® is keeping bottles and other plastics out of the ocean. By taking 70 bottles out of the ocean we get 1 kg of recycled polyester. 14 bottles collected from the ocean to be used during the production of 1 Trilobite jacket for the lining. Besides, we help to save also the energy, because the energy consumption during the production of recycled Polyester is less than what is needed to produce the virgin Polyester. In particular, it takes up to 53% less energy.
CLOSING THE LOOP ON DENIMS LIFECYCLE
What will you do with your jeans when they are no longer fit for wearing? Throw them away? But what happens then? Will they disappear?
Many individuals separate and recycle paper, plastics, and domestic waste, but not enough people responsibly recycle the textiles.
Denim jeans are made mostly of the seemingly pure and all natural Cotton plant. This thirsty cotton plant depends on fertile land, intensive irrigation, pesticide spraying and a sunny climate in order to thrive. An average pair of jeans uses up to 3,78 litres of water in its full lifecycle. 70% of this precious water is being used in cotton farming alone.
The majority of the worlds textiles are made of man made plastic fibers which then break down into hazardous waste when dumped in landfill. The enviroment cannot keep up with fashions constant rotation of fashion clothing which obviously create an unacceptable amount of wastage.
Recycling denim and textiles is the only way to close the loop on clothing's linear lifecycle.
Trilobite® cooperates with denim brands that are developing innovative ways of recycling old denim into new denim garments. The old denim garments are deconstructed into scraps and shredded into raw cotton again, just like how it began. This Cotton fiber is then blended with virgin cotton to ensure good tensile strength and woven ito new denim fabric. By cutting out the agricultural process, jeans crafted with at least 15 precent recycled cotton save as much water as the entire manufacturing process consumes.
Trilobite wants to keep our planet clean!