A world's unique performance material by Trilobite® called TRILOBITEX® represents an innovative breakthrough technology in the world of motorcycle jeans protection. TRILOBITEX® material is especially designed for motorcycle garment.
In its 4-layer sandwich construction it combines basic features which are important for every rider – Safety, Abrasion resistance, Breathability, Comfort, Waterproofness.
The four layers are directly laminated which ensures effective product dimensions and gives the jeans civil and ergonomic look.
Trilobite Premium Aramid Fashion® as the first in the world is introducing abrasion resistant, protective waterproof jeans.
There have been many jeans equipped with protective lining but we decided to go ahead and break further limits. Those who wear denim when riding a bike also want to travel dry and safe. All of this you can have with our new denim range made of technologically advanced TRILOBITEX® material developed exclusively for motorcycle riders.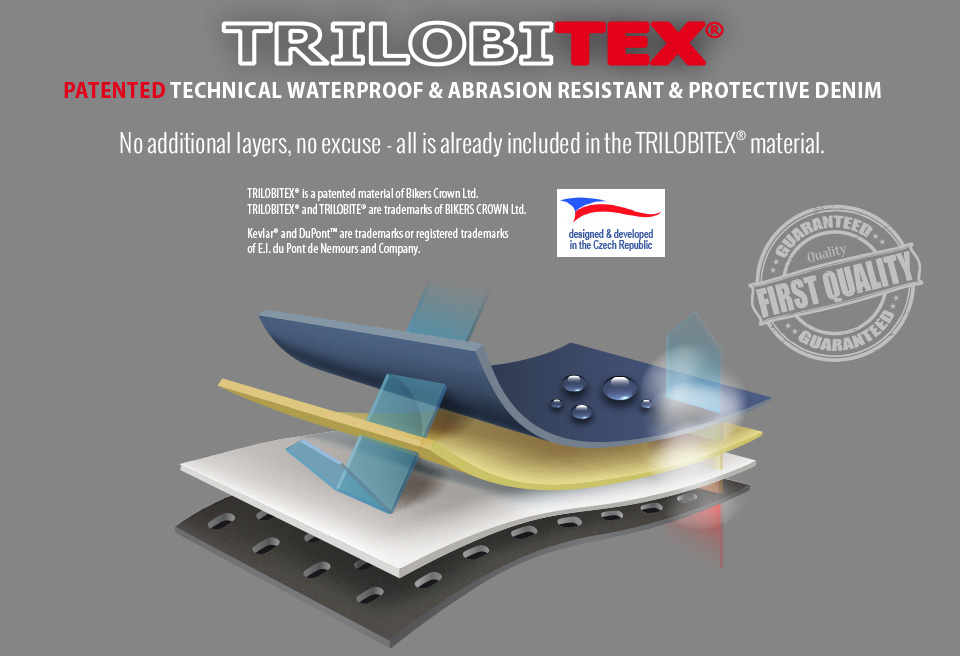 Membranes will assure unrivalled drainage of moisture away from your skin to the outside environment and still keep a sufficient value of the water column and 100% windproof features.
Thanks to unique nanofiber structure with the fiber diameter up to 150 nm, the nanomembrane has by 20 000 000 pores within 1 cm2 more than usual micropore membranes. Thanks to it the nanomembrane is able to reach unique properties which no other membranes in the world can compete. Nanomembrane is very similar to human skin which gives the membrane extremely high values in its breathable properties. It means the ability to take body moisture away from the skin to the outside environment. Moreover nanomembrane is 100% windproof and its hydrostatic resistance can exceed 10 000 mm+.